online users on GTAVCity
More Partners

1/18/05 - word - Two years later, and i'm updating for y'all! No news on another GTA! :( Hopefully there will be soon. I cant believe people still come here and write crap on the tagger, I got 198 votes on my poll...my god! Where are you people coming from? I thought I would write something, coz its funny how people still come here. Tripod stinks, all these ads messed up the entire design. That sucks!!!!

Anyways, i'm outta here, and wont be updating again for another two years, haha. Goto my site: http://www.bronxy.com!

10/10/03 - News - What's with these stupid Tripod Ad's on the bottom of every single page on my site? Damn, Tripod has gone crazy. No Updates on this site, and there never will be again..I also wont give this site to anyone, sorry. Anyways, hit me up on my new site/domain; http://www.bronxy.com. Thanks for visiting this website, Peace!

8/10/03 - News - GTA 4? Could it be? Check out the latest IGN Article here.

7/30/03 - News - 2 months later, and I am f'in back! Woooot! Anyways, thought id give a little post. Not a single thing has changed. Nothing, Notta. Everything is just like it was. Who knows if i'll bring in anything new. For now, I will just be posting whenever I feel like it. Some people wanted this back open for some of the content, so what the hell, here it is. I lied --> I might make a few new graphics, but that's pretty much it. By the way, the Matrix site I was working on.....I stopped it. So sorry, not gonna happen. Anyways, thats it for now, peace out!

5/28/03 - News - Just letting you all know I am still here...I just felt like posting. There is NO gta news to report. Its like I need to wait till the next one to come out, and that most likley wont be this year. I think this will be my last post for awhile. I been working on a new matrix website. Yea, I am into the matrix big time. Thought id just put some interactive stuff on the website with tons, and tons of media. Also, since summer is here, I am going to be going away a lot and wont be able to post.

Signup for the forums still if you want to, and post whatever news there. Cole still checks it once and awhile but, not as often. Anyways, I'll let you all know what the matrix url is when I am almost done with the site. Thats all for now, cya!



5/20/03 - News - I dont have any new updates to post about, so I thought I would post something so you all knew I was still alive. Saw "Matrix Reloaded" over the weekend, and it just kicked ass big time!! If you havent seen it yet, id say go check it out!
Bought Vice for the PC, tell you the truth its got a few things diff from the ps2 version, and I think I like this version better.
thats all for now, i'll update with something later on.



5/16/03 - PC VICE - VICE CITY NOW OUT ON THE PC!!!!



5/16/03 - Bandwidth - Seems like people like to hit my website with bandwidth eaters. Been going down all night, and is still going down today. Really matrue whoever is doing it!



5/15/03 - My Email/Affiliates/More -
BrickFist: That frame is absolutely fucking too small :P
You know what ass, change your settings on your computer. Looks fine on mine and everyone else I know. The frame is actually fucking big. I think I would know :)

In the tagger "Phobos" asked what the webmasters email address was. If you guys read the updates below you might see my email addy. Anyways the email you can send me stuff to is: bronxbombers_0303@yahoo.com.

Just checked out my Affiliates and deleted 4 buttons from my site. Because I had 4 of you guys on my site, and didnt even see one thing about me on your site. If you wanna be linked make sure you add my button first, email me, I will then add you. Thats all for now.



5/14/03 - Vice PC Review - We recieved word from Rockstar that GameSpy has posted a review of Vice City PC. While the review is rather short, and is mostly full of things you already guessed, it does give some promising glimpses into the stabilty and smoothness of the game. So head on over and give it a read while you kill time waiting for the release. Only two more days to go. :D .

Anyone have any idea's of what else to put on here, or what the next poll should be? Please email me at: bronxbombers_0303@yahoo.com I CHECK IT DAILY!!!!



4/25/03 - Vice on PC - An interesting thing about the aforementioned taxi is its textures- I can tell from the shape that it's one of the low-poly models which the game uses for far away vehicles. And if you've done any car modding for GTA3 on the PC, I'm sure you've noticed that these versions are usually somewhat flat shaded. I know it might not seem like a big deal now, but the little details like this really do add a lot to the feel; I mean wow, you can even distinguish the shut-lines on that distant taxi.

The most interesting part about the screenshot would of course be the player model. If you take a minute to compare it to some of the old PS2 shots, it really does look a lot smoother- which is extra interesting when you consider that most of the old shots were most likely made using the development kit on a PC. The first thing I noticed was that the textures are much cleaner, and it looks to me like the number of polygons may have even been bumped up a bit. Maybe I'm just too accustomed to the PS2 version, but it really does seem as if the model is a bit smoother now. I know one of the main (and few) complaints about the console version was that the hands were rather blocky, however here they seem much more defined. Anyhow, I'll quit rambling now and let you soak in the high-res VC goodness for yourself now: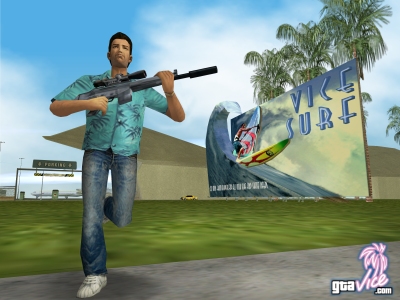 Also Rockstar has not announced it yet, but on IGN.com there is a page for members only where it has information about the next GTA set to come out mid Jan 2004! Will have more details if I can get a hold of em'



4/21/03 - Latest Article - Long day today. Not much has been going on. Just got back from a trip last night. In case you didnt know, Cole has a brand new article up for your enjoyment. I didnt have time to add it to the website but I promise I will when I got time. To check it out, sign up at the forums and then click the link.
New Article.

Edit > Added Cole's latest article on the website. All I did was upload it, click here for the article. I will post it on his official page on this site some other time.

Top Selling Electronics

4/11/03 - ScreenShots - Had nothing better to do today, so I came upon some GTA Images while searching the internet. They are all uploaded. Click the link below for em'.
Screenshots.

Top Selling Electronics

4/10/03 - GTA '97 & PC Vice - In todays GTA Mailing list issue R* announces they decided to offer the first in the series of GTA (1997) for free.

All you need to do to get it is hop over to www.rockstargames.com/classics.

A small catch.. the file is 336mb, so you're going to need a lot of patience or a fast connection.

In other news here are the requirments to play GTA Vice on your PC:

Intel Pentium IV / AMD Athlon XP processor

256 MB of RAM

1.55 GB of free harddisk space

64 MB videocard /DX 9.0 compatible drivers
Top Selling Electronics

4/7/03 - I decided to upload some of the trailors from Vice. Ill have them up soon.

edit>Ok, got the 2nd trailor released uploaded. Was gonna upload the 1st one but, I dont have enough space. If you know a good host, hit me up at bronxbombers_0303@yahoo.com. Don't tell me freewebs.com cause, I already tried it out. Anywayz check out the first trailor here. I'll have another update soon. In the mean time go check out the forums!